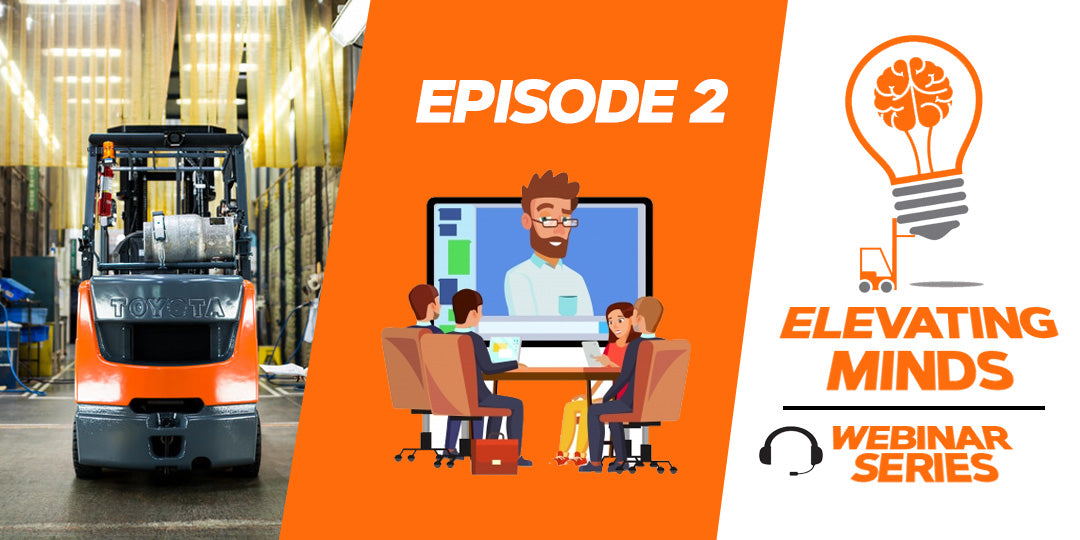 Elevating Minds Webinar Episode 2
The Elevating Minds Webinar Series covers key elements of the material handling industry. Being connected, prepared, and having the appropriate, credible equipment and training has never been more important during these uncertain times.
In the second episode, we covered the different options of purchasing industrial equipment available for business owners. Our expert speaker Chris Somos, National Sales Manager from Toyota Commercial Finance Canada talked about financing, buying, and leasing options that best fit certain business objectives.
Why do businesses finance?
Financing allows the company to maintain its working capital and benefit from equipment sooner. There are also taxes and accounting advantages which all help establish commercial credit.
TCFC's Financial Products:
Loan: Customers own the assets and the finance company puts a collateral charge registered on it and taxes are generally due upfront (as cash downs) but can be financed for strong credits. All the rights and responsibilities of ownership rest with the customer. The customer capitalizes on the asset and debt on the balance sheet, depreciates assets.
Capital Lease: TCF owns the asset and the lien is registered. The customer is obliged to buy or refinance the equipment at the end. Most of the rights and responsibilities of ownership are transferred to the customer. The customer also capitalizes on the asset and debt on the balance sheet and depreciates the equipment over its life.
When is a capital lease the best option? 
When the customer wants to own the equipment and manage it themselves, a capital lease is a great option to do so.
Operating Lease: Typically for new equipment only. TCF owns the asset and the lien is registered. There is either no buyback option or the option to purchase the equipment is at unspecified market value, but if the customer does decide to return the equipment, it must be in rental ready condition. There is also a limit placed on the number of hours use and application.
When is an operating lease ideal? An operating lease is great for customers who want to regularly upgrade and those who want only in-warranty equipment and have predictable costs.
Tips for making a good credit application
Make sure you have the correct legal name of your business

Double-check is you are an incorporated or a registered business

Provide all addresses associated with your business

Provide full contact information and the contact information for your finance department

Have some trade references ready

Be upfront about any financial difficulties or problem if any

If you do not have a detailed website, be prepared to provide detailed information about your business and operation
What does TICF Finance?
New and used Toyota material handling equipment

New and used other brands equipment

Loose batteries, chargers, attachments, etc.
For more information on each of these topics, watch the video below for the complete version of the webinar.