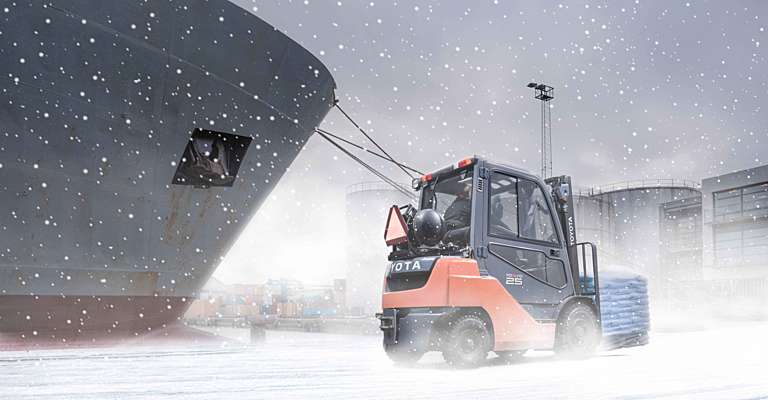 Forklift Operation in Winter Conditions Part 2
Operating a forklift during winter conditions can bring challenges, both to health and safety and to productivity and efficiency. When managers make the wrong decisions, product can be ruined or lost, and worse, employees can suffer, trucks can skid or tip, and preventable collisions can take place that can harm both people and equipment.
Last week we reviewed a few winter weather forklift operation tips that focused on training and employee behavior. This week we'll review a few considerations that emphasize forklift maintenance and features. Keep these thoughts in mind if you're responsible for a materials handing operation with an outdoor component in an area that's prone to cold winters.
Rent or Buy: Factor Weather into the Decision
Your decision to rent or buy a lift truck may be the most important decision you make. Crunch the numbers carefully and weigh the unique costs of buying (interest payments, long-term maintenance, year-round responsibility) against the unique costs of renting (an unknown mechanical history, a short lease term, no control over how trucks are maintained or stored). If you use your trucks only sporadically in the winter, consider renting.
Choosing a Truck Model
If you decide to buy, choose a truck with the traction control, handling, closed cabin and stability system that will help your employees navigate winter conditions. Consider every detail from the fuel source, to the maintenance requirements, to 360-degree operator visibility, before you invest in a specific model. Recognize that investing in employee safety may come at a modest financial cost.
Factor in Size, Width and Lifting Specs
How wide are your warehouse aisles? How high are your shelves? A lower capacity lift truck (in terms of both size and strength) may mean more trips, which may mean greater wear and tear in the cold—both for the truck and for your employees. A larger truck can mean higher stakes and greater damage in the event of a slide or collision.
Adjust the Environment if Necessary
The truck you choose can mitigate or remove some potential winter hazards from the workplace, but your truck choice won't be your only option. You can also work to reduce grades and increase surface integrity in work areas. Instead of flat concrete, try gravel. Instead of wet thresholds that can easily become icy, install covers that shield the ground from precipitation. Make the area safer for workers and trucks by altering the landscape, improving visibility, shortening travel distances, etc.
Image Source: Toyota Material Handling Europe