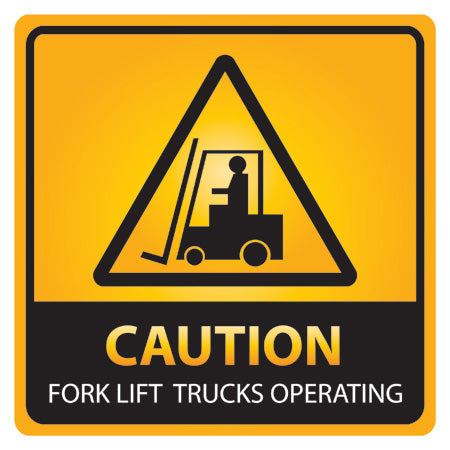 Assess Your Forklift Safety by Asking These 4 Questions
If you manage operations in the materials handling industry, you're probably familiar with the training requirements for forklift operators, but a complete safety program requires more than just training. Ask the following 4 questions and let the answers guide the actions you might need to take in order to ensure your workplace compliance.
1. Is your selection of forklifts based on specific safety criteria?
Choosing the proper class and model of lift trucks should be guided by a set of criteria that recognize the particular requirements of your application and work environment. Depending on the fuel source, the type of tires and the load limits, each specific truck will have differing hazards associated with it. An employer should be especially mindful when purchasing a used forklift, as some safety features may have been altered from the original manufacturer specifications.
The selected forklift should be suitable for the daily tasks of your operators and have the required load and reach capabilities. Other criteria include the identified hazards, the types of loads to be handled, the operating terrain, the atmospheric conditions and the layout of the workplace.
2. Do your forklifts operate in a safe environment?
Evaluating the safety of your work in relation to your forklift operations seems like a given, but employers sometimes overlook key elements while placing too much emphasis on others. Regardless of your industry or the size of your company, be sure to implement a comprehensive list of procedures, precautions, and rules to eliminate as many risk hazards as possible.
As recommended by the CSA Standard, this includes:
Proper ventilation and adequate lighting
Acceptable noise level
Traffic management system, including designated and separate pedestrian routes
Controlled forklift speed regulations
Minimum side and height clearances for the safe travel of the forklifts
Basic ergonomic principles to avoid strain and injury
3. Have all your forklift operators received proper training and are their skills being regularly monitored?
When it comes to the operation of forklifts, the legislation is clear: only people who have received proper training by qualified individuals, and who have the necessary knowledge and experience, should be permitted to operate lifting equipment. All operators should follow a complete training program that incorporates theory, hands-on practice, knowledge verification, and practical evaluation.
A mandatory mid-term evaluation is no longer mandatory. Instead, the standard insists on training being a continuing process, rather than a task to be completed and checked off a list. Employers are reminded that they are "responsible for monitoring performance on an ongoing basis" to ensure that their operators' skills meet the required standards. In addition, all training should be specific to the application and the workplace where the forklift will be used, and all forklift operators should "receive retraining at intervals not exceeding 3 years."
4. Do you perform and keep documentation of your daily pre-operation inspections?
A common violation when it comes to the use of lift trucks is the omission of a pre-operation inspection before each shift. All operators are required to perform a visual and operational inspection of the forklift to be used, including all its attachments. Not only should they know how to recognize items that need to be repaired or replaced, but they should also know the exact procedure for how to report them. The new updated CSA standard also now mentions that a documentation process should be established to keep all inspections forms on record for future reference.
These questions are just a sample of what must be asked about your lift truck safety program.