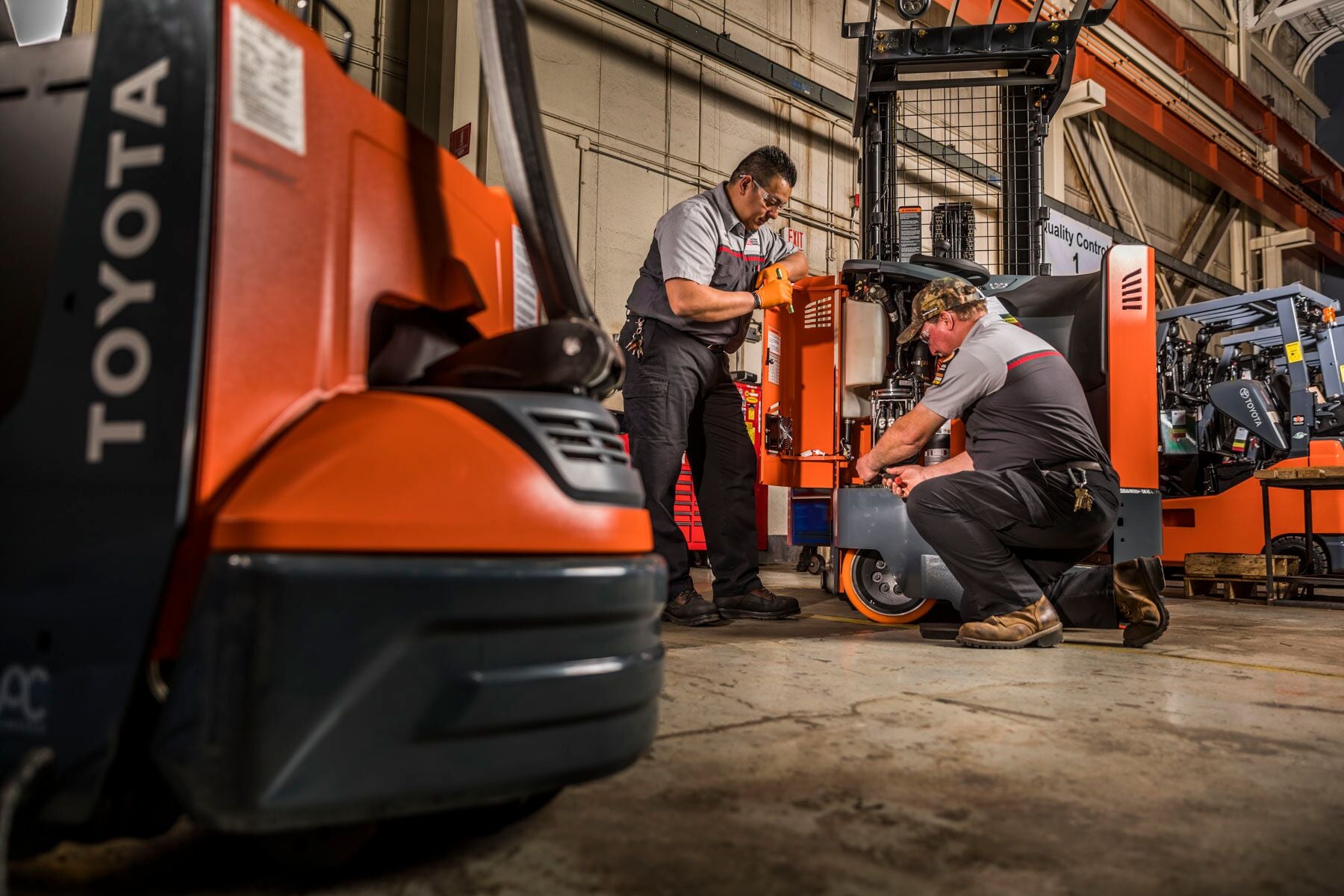 Does Your Forklift Equipment Need Servicing?
Even the toughest, most dependable lift trucks need repairs now and then. A schedule of regular maintenance can keep your high-performance equipment operating at its full capacity. Safe, efficient, powerful lift trucks and materials handling equipment require close attention and occasional tune-ups. And if you've been running a warehouse or materials handling operation for a while, you know the value of a reliable mechanic.
We Service Lift Trucks of Every Make and Model
As a Toyota dealership, we stand behind our products. But we also have the experience and skills to repair and maintain any lift truck you operate. We provide service, repair, and maintenance for all issues, including the following:
1. Detailing, painting, and minor collision damage
On busy worksites, lift trucks can take a beating. But the image you present to your clients, customers, and employees can provide a necessary boost to your brand and your overall productivity. Bring us your scratches, bumps, dings, and dents and we'll buff, repair and repaint until your lift truck fleet looks clean and professional.
2. Total refurbishing
We have the skills and equipment to break down any component of your lift truck, inspect every part, and rebuild your equipment to factory specifications. We can refurbish components of a single truck (including both combustion engines and electric motors), an entire truck, or an entire fleet.
3. Mast overhauls
Is your mast damaged, tilted, or sloppy? If left unexamined, this can be a serious safety issue. Our technicians can keep your mast in excellent repair.
Liftow is proud of our rank as the largest Toyota dealership in North America. With branches serving Quebec, Ontario and Atlantic Canada, we can offer the accessible service you need, when you need it. Contact one of our branches and have one of our 165+ trained technicians assist you in your service requirements; we're here to take care of you. Our locations are all fully outfitted shops that can handle the biggest jobs. For smaller issues, we'll even send a trained expert to your location and conduct all necessary reviews and repairs right at your worksite.