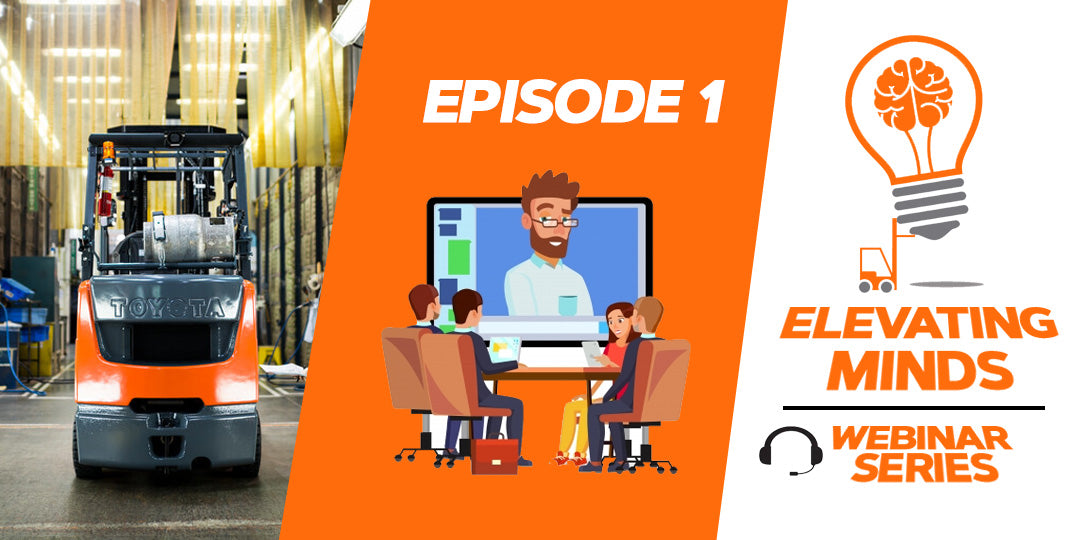 Elevating Minds Webinar - Episode 1
The Elevating Minds Webinar Series will cover key elements of the material handling industry. Being connected, prepared and having the appropriate, credible equipment and training has never been more important during these uncertain times.
In the first episode of our webinar series, we gathered four of our experts to provide solutions to your organization's complex challenges when it comes to optimizing and getting the most value out of your equipment. Here is a summary of the four topics covered on this week's episode:
Electric Vs. IC Powered Truck 
by Jamie Stephen, General Manager Sales and Western Division at Liftow
Electric-powered equipment has many benefits including reduced carbon footprint, fuel cost savings and improvements in the working environment for personnel. The fuel savings per day in a 2-shift operation environment are $30 to $40 per forklift. When comparing two 5,000lbs forklifts, one battery and one propane-powered in a 3-shift operation environment, the Electric Forklift can have a monthly saving of $503. Other benefits are improved facility air quality, lower noise levels, cooler and cleaner environments. However, if you have a significant grade on your plans, your units are used outside much of the time or never stop moving during the shift, an IC Powered Truck would be a better solution for you.
Lifting Device Inspection 
by Jason Newell, New Business Development Manager Western Ontario at Liftow
According to Ontario's legislation, lifting devices inspections must be done yearly or after 2,000 hours – whichever comes first. During an inspection, many tasks are completed such as emissions tests, forklift attachments checks, forklift brakes tests, among many others.
Emissions Testing:

 Propane trucks need to have emission tests. Technicians should be recording results on lifting device inspection form

Forklift Attachments Checks

: attachments need to be checked for proper operation, leaks, worn components, cracked welds, etc.

Forklift Brake Inspection

: this test is done by removing the wheels to ensure proper operation of the brake system and confirm no leaks.
Fleet Optimization 
by Ryan Ratzlaff, Sales Manager at Badger ToyotaLift
There are 5 key identifiers for forklift optimization: the number of units in fleer, age of each unit, life to date hours, available working hours in a year and total lifetime maintenance spend. Fleet optimization has many benefits including lower maintenance and operating cost, reduced labour cost and reduced safety concerns.
Health & Safety Training During COVID-19 
by Jordan Brimley, Regional Manager at LIFT Training
Today, more than ever, material handling training can be done online. Besides being consistent and cost-effective, online training provides instant feedback, can be done in multiple languages and students can pause, rewind or stop the lesson in case they need to review a subject. Training can also be done virtually through different platforms such as Zoom, Microsoft Teams, Meet, etc.
For more information on each of these topics, watch the video below for the complete version of the webinar.