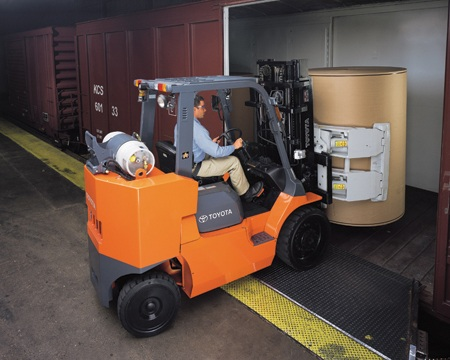 Forklift Attachments: saving you time and money!
When it comes to materials handling, not every good is packaged alike and therefore a task-specific 
forklift attachment
 may be required. Standard lift truck forks are used primarily for moving palletized loads or 'skids'.  All task-specific lift truck attachments are designed to enhance overall productivity, reduce costs, and improve safety.
Some of the more popular lift truck attachments are side shifters, fork positioners,
paper roll clamps
,
drum handlers
,
push/pull
,
rotators
and
carton clamps
.  Each attachment enables the conventional forklift to become more versatile and efficient at material handling. For instance, drum handlers and paper roll clamps are designed specifically to move drums, large coils and paper rolls of all diameters and weights to maximize efficiency and reduce product damage.
The most popular attachment is a sideshifter which allows the forks to move hydraulically in tandem by simply moving a lever.  This eliminates the operator from having to reposition the truck due to the fact that the lift truck is not perfectly aligned to the load.  This saves any operation considerable time as well reduces wear and tear on the forklift. Whether loading a trailer or putting a load away high in a rack, a sideshifter is worth the investment.
Forklift Attachment Advantages:
Handle odd size / non-uniform loads efficiently and safely
Helps to increases safety and reduce workplace injuries by having the proper attachment for  the material being moved
Improves warehouse utilization and productivity
Palletless handling = cost savings
Ability to handle multiple pallets or loads at once
Forklift Attachment Facts:
Fork extension lengths may not exceed 1.5 times the length of the forklift truck's useable blade length otherwise it will create a safety hazard.
Forklift attachments change/reduce the basic lifting capacity of a forklift and therefore a new data/capacity plate is required.
Specific training is required for all operators who use a lift truck with an attachment
There are a variety of different lift truck attachments available and all are designed to provide greater productivity and safety.  It is always highly recommended to consult a material handling professional before selecting any attachment.