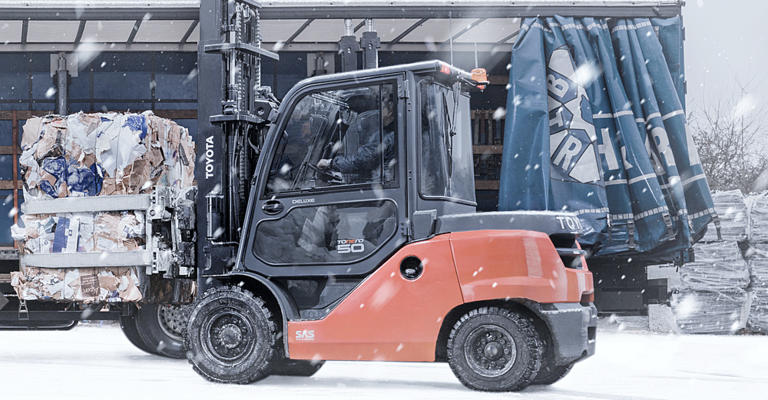 Forklift Operation During Winter Conditions: Part 1
If your materials handling workplace involves both an indoor and an outdoor component (including an outdoor loading dock where you receive incoming shipments), then your safety and productivity requirements may be a bit complex—especially if you remain in operation during cold weather. Keeping your forklifts maintained and your operators safe will be a task that falls primarily on you. But your employees are the ones who will need to recognize weather-related dangers and understand how to avoid them. Here are a few key elements to include in your training program.
First, make sure you have a training program.
Don't expect forklift operators (even experienced workers) to understand the principles of cold-weather operation if they've never been taught. Some knowledge isn't intuitive, and if you let your workers learn to navigate icy inclines through experience only, you may pay a high price in terms of injury and cost. Conduct training sessions before the winter arrives, and don't allow operators to get behind the controls until they've taken and passed the courses you offer.
Focus on critical elements first.
Efficiency is important, but in your training sessions, emphasize safety above all. Icy conditions can ruin surface integrity, which can cause skids, slides, tipovers, compromised visibility, poor cornering and hazard spots at transition points between indoor and outdoor settings. Make sure your employees get save driving and lifting techniques under their belts before you focus on issues like battery maintenance.
Make operation easier.
Every potential hazard to safety and productivity will be magnified by employee discomfort and distraction. Freezing bodies, numb hands and unprotected feet can lead to poor judgment and slow reaction times, which can increase accident rates for a wide range of reasons. Make sure your operators are provided with proper winter protection (coveralls, hats and gloves) and make sure they know how to use the cabin temperature settings.
Provide and enforce breaks.
Allow employees to get warm at appropriate points throughout their shifts, and if they aren't taking advantage of the breaks, apply an enforcement policy. Again, a few minutes taken from each hour of outdoor work will increase, not decrease, productivity and safety.
Provide routine cold-weather maintenance training.
Make sure your employees recognize the signs of a cold-weather maintenance issue (for example, reduced battery life). This way, minor issues can be dealt with quickly and trucks don't have to be removed from circulation for long.
Image Source: Toyota Material Handling Europe