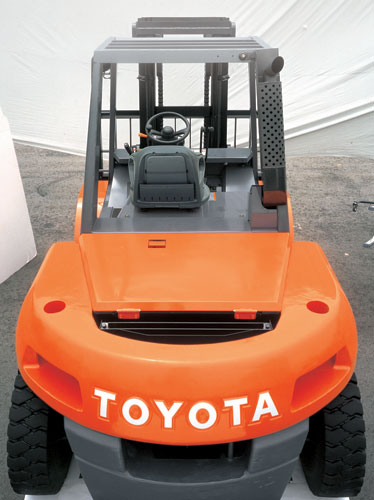 Top 10 Things to Check Before You Use a Forklift
In the course of any given day, a forklift undergoes immense amounts of stress. For this reason, it is critical to thoroughly inspect a forklift before an operation. Here are 10 things to check before you use a forklift to ensure safety, efficiency, and productivity.
1. Tires
Before getting behind the wheel, make sure that the forklift's tires are inflated, and check them for excessive wear and deep cuts.
2. Lights, horn and other warning devices
Lights are also an integral part of forklift safety. Make sure to check headlights, taillights, and working lights. Horn and any other warning devices such a strobe light, back up or travel alarms, should be checked for proper operation.
3. Seatbelts and/or operator restraint device (if equipped)
Check that belts and restraints work properly and that there is no visible wear or damage.
4. Brakes
Brakes play a huge role in the operator's safety. Here's how to check them:
Foot brake: when pressing on the foot brake, the forklift should stop smoothly.
Parking brake: this brake should hold against a slight acceleration.
Dead Man brake: when an operator rises from the seat, the brake should hold.
5. Overhead Guard
Forklifts are outfitted with a variety of safety devices to help prevent injury in the case of an accident. The overheard guard is a great example of one of these components. Make sure to check your overhead guard for cracks before getting behind the wheel.
6. Forks
The forks are the part of the forklift responsible for lifting and holding cargo. Checking to see whether the forks are bent or worn at the beginning of each shift can help prevent accidents. Make sure that no cracks are present, the positioning latches are in good working condition, and that the carriage teeth are not broken, chipped or worn.
7. Fluid Levels
Before starting your forklift, check all fluid levels (oil, fuel, radiator coolant level and hydraulic oil). To correctly do so, make sure the forklift is on a level and even surface.
8. Power and fuel sources
If your forklift is LPG, gas or diesel powered, check the fuel level. If your forklift is battery-powered, make sure the level of electrolyte present in each cell is good and that the battery is charged.
9. Warning Decals
Warning decals play an important role in creating a safe working environment. Make sure they are legible before operating the forklift. If missing, damaged or illegible, these decals should be replaced
10. Gauges
Check the gauges on the forklift's dashboard before starting a project, as the gauges provide the forklift operator with critical information.