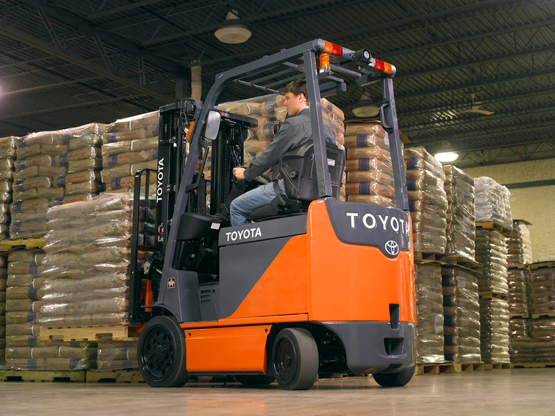 What an Electric Forklift from Toyota Can Mean for Your Business
Toyota produces the most reliable lift trucks on the market, which is why their forklifts consistently outsell its competitors. Toyota manufactures a full range of forklifts, pallet trucks, and reach trucks, including internal combustion and electric models. Read on to find out why a Toyota electric forklift may be a good investment for your business:
Eco-Friendly Power
An electric forklift produces considerably fewer emissions than an internal combustion model. Though gas-powered forklifts are necessary for some heavy-duty operations, choosing an electric forklift when possible helps reduce your company's carbon footprint. Also, electric forklifts can be safely used inside warehouses and other buildings where gas or propane models would fill the indoor environment with hazardous fumes.
Modern Features
Toyota's latest electric 8 series forklift comes with an AC electric motor featuring integrated hydrostatic power steering which requires less maintenance than internal combustion or propane-powered model. Some of Toyota's models feature built-in self-diagnostics, so you can instantly get information on the state of your forklift with the optional digital display. A programmable meter will alert the operator at set intervals when the vehicle needs service, and you can program the lift truck to automatically perform certain functions for ease of operation.
Ergonomic Design
Like with all Toyota forklifts, Toyota's electric lift trucks provide operators with superior comfort and ease of use. Toyota is constantly improving safety and operator comfort which is evident in Toyota's new 4-wheel electric. Toyota redesigned the forklift to include features like a low profile front cowl so it offers drivers extra visibility, extra legroom, ensuring that even the tallest drivers stay comfortable as well as larger step and assist grips for easier entry/exit into the forklift.