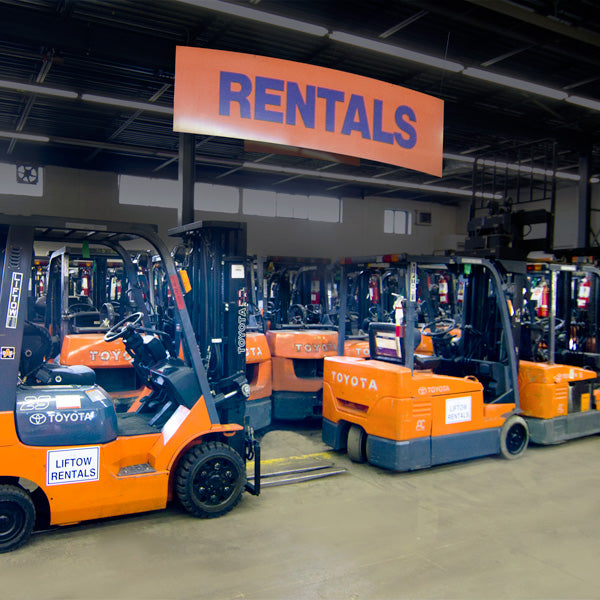 The Benefits of Lift Truck Rentals
If your day-to-day work involves materials handling operations with busy product flow, then you understand the importance of a reliable fleet of lift trucks. You depend on your lift trucks to provide the versatility and lifting capacity you need at any given moment. Even as your business ebbs and flows, your ability to maintain available trucks can directly influence your bottom line, even if you aren't using those lift trucks every minute of the day.
But if your operations grow, purchasing new lift trucks is not your only option when the time comes to add lifting equipment to your fleet: consider the benefits of a lift truck rental. Here are a few things to keep in mind while you decide which option — rental or purchase — makes the most sense for your company's needs.
Handling Peak Seasons and Unexpected Volumes
Purchasing equipment may be the most efficient choice if your business registers a barely perceivable rise in activity from one season to another. On the other hand, your business may be seasonal, having to manage a higher number of orders flooding in at specific times of the year. If more than 80 percent of your orders flood in during one or two specific months, renting your lifting equipment will keep you from housing and maintaining dusty, unused equipment during the remaining months.
Forklift rentals are also an advantageous way of dealing with unanticipated volumes or project-specific needs. Renting allows you to bypass high upfront costs, choose from the latest models of equipment available and easily return your rented equipment when the busy period settles down.
Avoiding Routine Maintenance
In a perfect world, your fleet of forklifts would require minimal maintenance work, but reality dictates that scheduled maintenance is necessary not only to ensure the efficiency of the lift trucks but also the safety of your workers. Routine maintenance can be an expensive hassle, requiring countless service hours over the course of a year, as well as expensive repairs and replacement parts. Using rented equipment can help you avoid this pitfall altogether since maintenance remains the responsibility of the rental company.
Renting from Liftow
Renting a reliable lift truck from Liftow can help you maintain productivity, and generate revenue while keeping your costs under control. We can offer counterbalance, narrow aisle reach, and pallet trucks, including lift trucks from Toyota's state-of-the-art, environmentally sustainable 8-Series. We can also accommodate specific requests, like covered cabs to fit the season or specific attachments designed to handle your product.